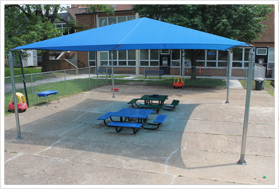 SportsPlay Shade Structures are low maintenance, overhead canopies that are an ideal, cost effective shade solution. The fabric is knitted, high density polyethylene, which is UV stabilized and lock stitched, which means it will not fade, mold or rot. If torn, the lock stitch will prevent the canopy from unraveling. While providing shade play areas, our canopies help block out up to 95% of UV rays.
Guranteed for at least eight years against UV degradation
Extends the life of playground equipment
Endorsed by the American Cancer Association
Extremely durable
Enhances the overall appearance of play areas
SPORTSPLAY Shade Structure nets have tiny holes that allow hot air to escape through the roof of the structure. Even with these holes, the standard netting has a high "water run off rate" of up to 93% which tends to keep the area underneath the shade structure partially dry.