Safety Surfacing/Fall Heights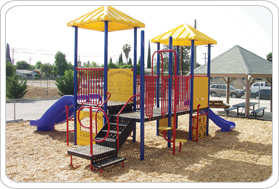 You must consider the type of safety surfacing you will use before beginning the installation process. There are two general types, organic/loose fill or synthetic unitary. Both materials have advantages and disadvantages and it is likely that your client's budget will dictate the material of choice. Always have all options available as product quality and long-term performance may cause your client to reevaluate their original budget.
When installing a unitary safety surfacing material such as rubber mats or poured-in-place, you will need to pour a concrete slab so that the rubber material can be secured. This type of product cannot be placed on dirt.
If a loose fill surface such as wood chips is selected, you will need to consider containment borders. There are many products to choose from including hard plastic and natural products such as wood. Creosoted railroad ties are NOT recommended. Loose fill materials like wood chips are easily displaced, so 12" deep is generally satisfactory. Also remember that loose fill will compress with repeated use and must be maintained to ensure proper depth.
The tallest deck on the unit generally defines the maximum fall height of a structure. The Handbook for Public Playground Safety written by the U.S. Consumer Product Safety Commission offers a surfacing chart with fall heights and depth of material. Please reference this book when planning your playground enviorment.
http://www.cpsc.gov/cpscpub/pubs/325.pdf