NEW ADA SWING SEATS FROM SPORTSPLAY!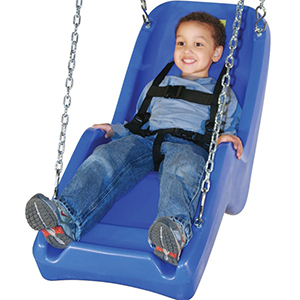 SportsPlay Equipment, Inc. has acquired the JennSwing® and the Cubby® ADA swing seats from Deanna M. Johnson, the founder, developer and inventor of these well-respected special needs playground products which were initially brought to market almost 20 years ago.

The Original JennSwing® swing seat and the slightly smaller, similar JennSwing® II: The Cubby® are both designed to help meet the American Disabilities Act guidelines for playground equipment in public recreation. The seats are a partially-reclined, body-embracing style, complete with an adjustable safety harness and provide a safe, highly comfortable fun ride on the swings for children with special needs. The larger JennSwing® will accommodate children up to 125 lbs. And the smaller Cubby® seat will accommodate children ages 6 to 24 months, weighing up to 60 lbs. Both the JennSwing® and the Cubby® come in a choice of five lively colors: ocean blue, jungle green, fire engine red, banana yellow, and bubble gum pink.

SportsPlay will sell the patented JennSwing® and® Cubby® seats through its national and international network of distributors. In addition to the JennSwing® and Cubby® swing seats, SportsPlay will also offer replacement harnesses for both models and seat liners.

Moving forward, SportsPlay plans to continue to make the JennSwing® and the Cubby® II using the same materials and specifications of the Original JennSwing for a seamless transition within the industry. Products will now drop ship to customers from multiple points of origin to increase delivery efficiencies.